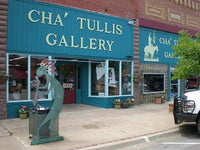 Cha' Tullis Gallery
Cha' Tullis Gallery offers a large selection of Native American jewelry, paintings & prints, pottery, books, cards & music, T-shirts & gifts, beadwork, artifacts & sculptures. The Gallery is in an old restored main street building built in 1906. Established by artist Cha' Tullis in 1977 on the Osage Nation Reservation in Hominy, Oklahoma.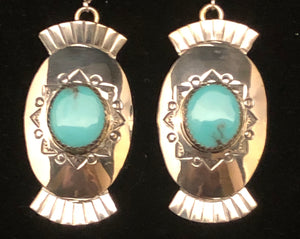 Authentic Native American Made Jewelry
The Cha' Tullis Gallery houses the largest selection of Native made sterling silver and turquoise jewelry in the state of Oklahoma.
Shop Jewelry
Cha' Tullis Original Creations
Multi~medium artist Cha' Tullis creates paintings, sculptures, jewelry and reproduction artifacts. His images are available in a wide variety of products ranging from original pieces to coffee cups and t-shirts
Cha' Tullis Creations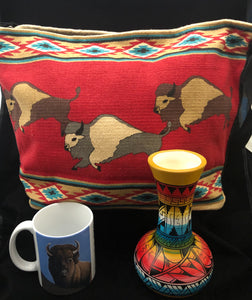 Gift and Treasures
View our everchanging selection of Native American and Southwest themed merchandise.
Shop Gifts and Treasures
Love, love, love this wonderful place. They have so many items to choose from. Lots of handmade items such as beautiful jewelry, awesome beadwork and leather items. Oh, I could just go on and on. You always find 'must haves' at Cha' Tullis Gallery.

Melodee
I brought my friend in with me today. I have been telling everyone about this shop! Wonderful smells, sounds and creations... left with some incense and a humming bird. I will be back!!! Most peaceful place in town.

Lia
You just can't visit Osage County and your visit be complete without a stop in the Cha' Tullis Gallery...It's Native American at its best. It's cultural and it's casual; it's amazing as well as inspiring...must-see in Osage County, Oklahoma.

Kelly